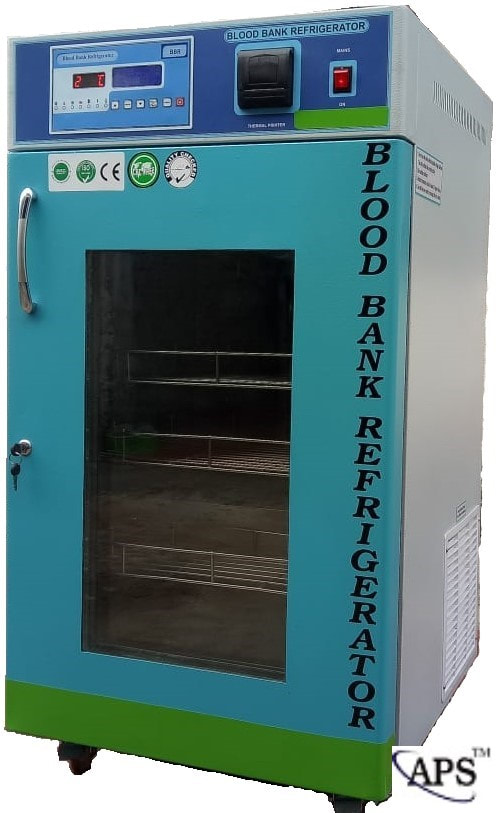 The "APS" Low Cost Medical Refrigerator/ Blood Bank refrigerator is a specialized refrigerating equipment for cold storage of pharmaceuticals as well as biological products and so forth. It is suitable for hospitals, drugstore, pharmaceuticals factories, sanitation and antiepidemic stations and clinics.
* Interior of chamber is stainless steel (SS-304). * Inner and outer chamber both made of Stainless Steel (SS-304). Door , panel, base plate and top cover made of C.R.C. duly powder coated. * Fitted with specially designed deviation alarm from the preset temperature, door open alarm and power failure alarm. * STAINLESS STEEL BASKETS are provided for storage inside. * Foamed - in - place CFC Free PUF insulation ensure temperature stability and reduced energy temperature. * Stainless steel heavy duty basket ensures even temperature distribution * Micro - controller controls the internal temperature between +2°C to +6°C with an accuracy of ±1°C, for storing blood bottles or blood bags. * The cooling is effected by a hermetically sealed CFC FREE ECO FRIENDLY COMPRESSOR. * To work on 220/230 volts A.C
There is no recirculation withing the work area. Room air enters through a blower/motor in the top of the cabinet and passes through a HEPA supply filter into the work area as the vertical unidirectional airflow.