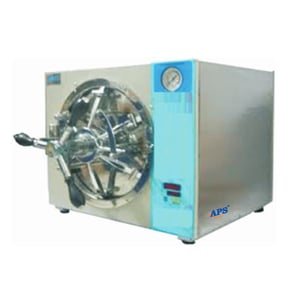 * Used for sterilization under saturated steam pressure at any selected point between15 to 30 psi (adjustable), however this can be used for higher pressure up to 15 to20 psi.
* Working temperature of 1210C.
* These double walled units have inner chamber (Boiler) made of stainless steel SS 304 / SS 316 grade (as per demand).
* Outer wall is covered with MS Powder Coated
* Thick stainless steel lid is tightened by radial locking system.
* Fitted with joint less neoprene rubber gasket.
* Systems are hydraulically tested up to 40 p.s.i. as a Safety Measure.
* All autoclaves are fitted with standard accessories such as pressure gauge, steam release cock, spring loaded safety valve, Vacuum Breaker and heating element.
* Space between boiler and outer shell works as air insulation however we may incorporate mineral glass wool insulation if customer desires.
* Heating is done through specially designed water heaters of suitable wattage to ensure optimum sterilization time in every sterilization cycle.
* Supplied complete with S.S. basket, cord and plug.
* Supplied with cord and plug to work on 220/230 volts A.C. Supply.