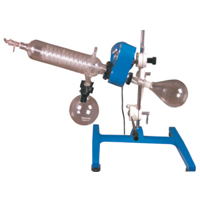 The apparatus consists of an evaporating flask rotated by heavy duty motor in a heating water bath.
Fitted with speed regulator for minor speed adjustments.
Vacuum distillation of solvent at high and low temperature is achieved quickly and efficiently by use of a heavy duty motor, which prevents foaming and bumping of the liquid (solvent) into the evaporating flask and also distillation under controlled atmosphere.