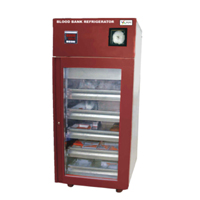 Blood Bank Refrigerators are available in various capacities, designed to fit a variety of space and storage requirements. The refrigerators are equipped with heavy-duty compressors to maintain a vital operation temperature of 4.0 C. Superior refrigeration technology and precise temperature control to ensures reliable blood storage.
Foamed -in-place CFC free PUF insulation ensure temperature stability and reduced energy temperature.
Micro-controller controls the internal temperature between 4 oC to 6 oC with an accuracy of ± 0.5 C, for storing blood bottles or blood bags.
The cooling is effected by a hermetically sealed CFC FREE ECO FRIENDLY COMPRESSOR.