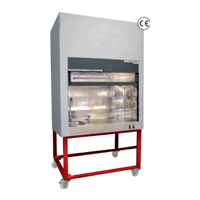 Highly recommended for exhaust of toxic gases, acidic/alkaline fumes, chemical vapors, removable of odour etc from the hood working area.
Very useful for products and personal protection, reducing odour levels in laboratories and protect costly lab equipments.
Complete exhaust motor blower assembly generated a negative pressure inside the hood thus facilitating removal of all contaminants from the works area, into the atmosphere.
Main cabinet/body is fabricated out of wooden board, laminated with high quality laminates from outside.
Work table is made of Stainless Steel (SS-304) and is fitted with a small S.S. sink with water tap connections.
The front door moves vertically up and down with concealed counter balanced weight.
The unit is fitted with fluorescent light and a gas cock for gas/air supply.
The front facing panel is fitted with 15/5 Amp socket with switched for exhaust system and fluorescent light.
To work on 220 / 230 volts A.C. Supply.