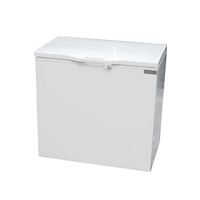 Outer body made of molded plastic/PCRC Sheet duly powder coated and inner liner of Stucco/G.I Sheet has PUF insulation for better thermal protection.
Fitted with Microprocessor Based Digital Temperature Controller with in-built Hi/Low temperature deviation alarm and has a temperature range of -28ºC to -30ºC (in a AC room).
With a heavy duty compressor these models are designed where super fast freezing of products is required.
To work on 220 /230 Volts AC Supply.